Drought Tolerant Landscape Design
California has been struggling with a drought. This drought has caused the state to request homeowners and commercial businesses decrease their water use and find new ways to take care of their property.
The Sacramento area has been hit especially hard, as the Central Valley has been seeing record lows in rainfall. This drought has led many homeowners to seek out landscape design that requires less water and less upkeep, to reduce water usage and save on their energy bill.
How do I get a beautiful yard while saving water?
Try xeriscaping. A fancy term for low ­water and drought­ tolerant landscaping, xeriscaping is all about using plants that can withstand extremely dry (or drought) conditions. Even if you don't live in the desert, a well ­planned xeriscape can save you a significant chunk of change and time when it comes to maintaining your garden.
Xeriscape means Dry not Dull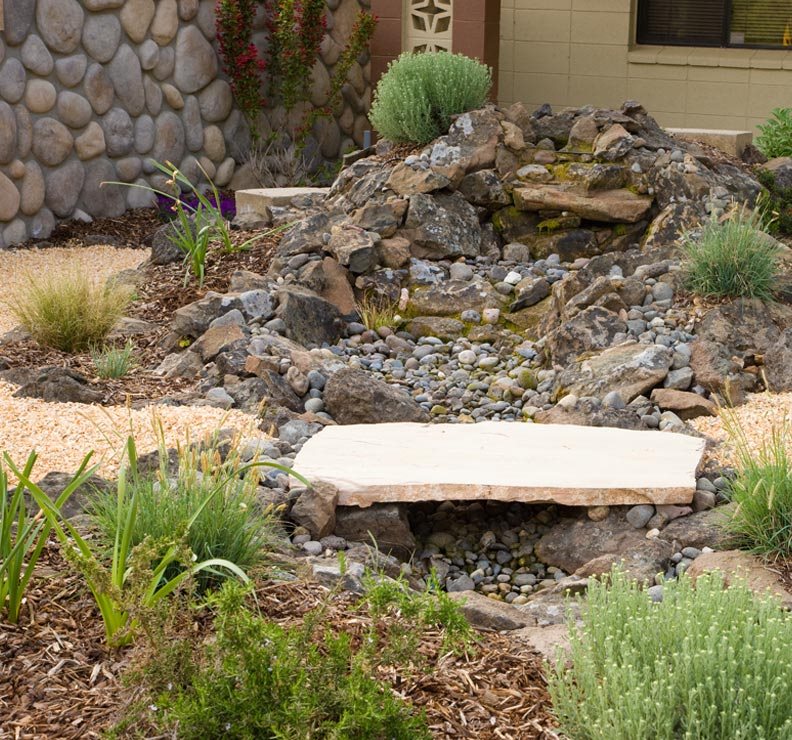 The Most Popular "Green lanscaping" options Available Today!
By using resources already in the future building footprint (for example, using excavated dirt for rammed earth walls) and by employing landscaping techniques such as xeriscaping (the elimination of irrigation needs), the impact of the building can be minimal and the site can serve as an extension of the natural surroundings.
A common element in xeriscape landscaping is the reduction of lawn grass areas, since lawn grass is often one of the worst offenders against water conservation. Another widespread tactic is the deployment of indigenous plants, since they are adapted to the local climate and consequently require less water.
Xeriscaping is quickly becoming one of the most popular "Green Landscaping" options available today, due to its minimal water use. At Cascade Gardens, our drought resistant xeriscape designers are able to cut the amount of water you use in your lawn by as much as 90%. It's also popular for its fresh, modern and unique designs – a different take on modern landscaping, and one that has some daring looks that can create intriguing curb appeal.
A number of things can spur an interest in xeriscaping. Many regions (like Northern California) restrict the use of water on landscapes, so choosing xeric plants is one way of having a beautiful garden even while watering less. Other people are interested in the environmental benefits of planting natives and using fewer resources. Lastly, xeriscaping is an effective way of saving both time and money in the landscape, a benefit which everybody can appreciate.
Placer County's Expert of Xeriscaping –
Drought Tolerant Design
We find delight in inventing new ways to serve you.
If you've got a unique idea, we invite you to let us bring it to life.